Warden: -Dr. Neeraj Grover (Email id:-wardenm1@thapar.edu)
Contact N.o :- +91-9115727919
Assistant Warden: Dr.Parmod Kumar (Email id:- wardenm2@thapar.edu)
Contact N.o :- +91-9755130755
Caretakers:- Mr. Harsher Singh, Mr. Jaspal Singh (9914373087), Mr. Satguru Singh
Email-Id:- wardenm1@thapar.edu
Iconic Hostel M is multistory boys' hostel having state-of- the-art facilities. It has 9 floors with 4 with a capacity of 1148 residents. The hostel has both single and double seater AC rooms with both attached and shared toilets. Students are provided with all necessary things in the rooms including study table, chair, Almira, book rack, shoe rack, mattress, geyser, curtains and dustbins. Fifth and seventh floors of each blocks have social space and LCD TVs. On each floor water cooler, RO system, washing machine and sofa sets have been provided. There are 2 elevators in each block to make it easy to move from ground floor to 8th floor and anywhere in between. These elevators also has power backup in case of emergency. Housekeeping staff are available 24 hrs in the hostel for proper cleanliness. A laundry system is also provided to the residents.
The hostel has a 24*7 Wi-Fi network for residents to access high speed Internet anywhere within hostel premises. Hostel gymnasium comprises of all necessary modern machinery for residents fitness. The hostel has its own Guest as well as sick rooms. Hostel M has fine security measures. It is guarded by guards at entrances and each block. It also includes Fire alarms within premises.
Excellent mess in the hostel caters to provide hygienic food requirements of residents. Food is lovingly cooked under the guidance of the cooperating and vigilant committee members. Mess menu is made by the mess committee members keeping in mind the interests of the residents. Mess menu includes special nutritional supplements like healthy sprouts, cornflakes, soups and boiled eggs etc. Caretakers are present in the hostel for providing their services to the residents. We also have in house developed Online Room Allocation System where residents in the beginning of academic session can choose the room of his choice online through very interactive interface on first cum first serve basis.
The well maintained big lawns of the Hostel provide a serene environment. An executive committee of the residents runs the day to day affairs of the hostel. Night mess is also there with a variety of items. Students also celebrate various functions in the hostel like Diwali night, Independence Day, Republic day, Hostel night and Lohri function with great enthusiasm. At Hostel M, we are committed to provide excellent services to our residents.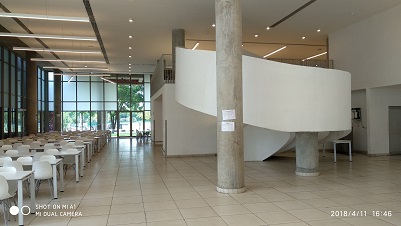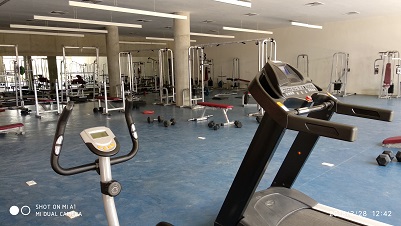 Total Capacity : 1148
1 seater - 516
2 seater - 632