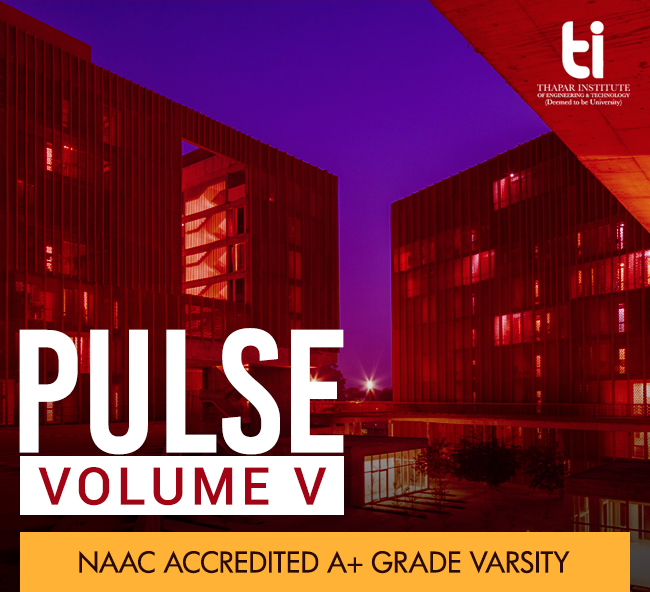 24-hour Hackathon, Sardar Patel Institute of Technology

A three-member team from Thapar Institute bagged the top position in a 24-hour hackathon at Sardar Patel Institute of Technology, Mumbai. 175 teams from 15 cities registered for the hackathon, out of which 38 were shortlisted for the competition held from January 5-6.

Coopathon 2.0

4 CSED students from TI won Coopathon 2.0 (hackathon by International Cooperative Alliance and government organisations for cooperatives) at NCUI, New Delhi under the guidance of Dr. Prashant Singh Rana & Mr. Harpreet Singh.
Software Edition, Smart India Hackathon 2019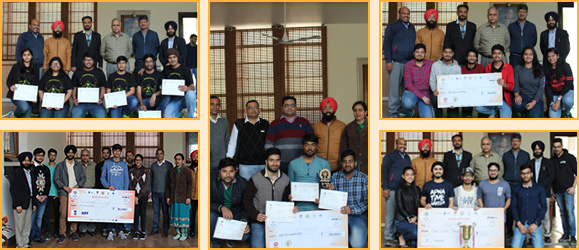 Students of Thapar Institute proved their technical strength once again at Smart India Hackathon 2019. Out of 34 competing teams, 8 teams made it to the grand finale of the event's software edition, held at different nodal centres across the country from March 2-3.
StartUp India, ISB Chandigarh

Udit Juneja and Utsav Shukla secured the Second Runners Up position at the Startup India Program supported by Startup Punjab and Invest India, Govt. of India, at ISB, Chandigarh.

Heritage Quiz 2019

Students from Thapar Institute rose above the competition yet again, winning both the 1st and 2nd position in the Heritage Quiz organised under Patiala Heritage Festival.
6th Go Kart Design Challenge

Team Oorja from TI dominated the 6th Go Kart Design Challenge held at Buddh International Circuit, Greater Noida. Despite there being healthy competition from 100+ college teams, such as NIT Surat and IET Lucknow, our team grabbed not only the event runners up trophy, but also the Best Captain, Best Autocross, Best Business Plan and Best Driver trophies.
Spotech '19 - IIT DELHI
TI students performed exceptionally well in Spotech '19, a national-level sports fest organized by IIT Delhi from March 1-4. Our cricket team won the silver medal and our tennis, badminton and table tennis teams won bronze.
Online Qualification Round - Google HashCode 2019
| | |
| --- | --- |
| | Shivam Goyal (1st Year, BE-COE), Manan Gupta (1st Year, BE-COE) and Abhishek Jain (1st Year, BE-EIC) participated in Google HashCode 2019 - Online Qualification Round as team 'cryptic_kernel'. With a score of 680469, the team successfully bagged a global rank of 945 and an all India rank of 33 among 6671 teams from Harvard, MIT, Cambridge, IIT and many more. The 4-hour event was held on February 28, 2019. |
International Conference on Food Security 2018: Challenges & Opportunities
ICFS 2018, the two-day conference strengthened international partnerships in agro-food nutrition sectors, afforded strong networking opportunities for developing entrepreneurial activities, enabled connectivity with key stakeholders and industries in private and public sectors and helped realise opportunities for investment in the agro-food-nutrition domains.
Second Annual Book Fair, Nava Nalanda Central Library
| | |
| --- | --- |
| | Thapar Institute organised its Second Annual Book Fair from January 17-18, 2019. Around 15 publishers and vendors participated in the exhibition, displaying books from a wide range of disciplines. During the two-day book fair, 'Library User' awards were presented in the following categories: faculty, research scholars and students. A library quiz competition was also organised. |
Troubleshoot 2.0: The Negotiation Table

Student Alumni Interaction Cell organised Troubleshoot 2.0: The Negotiation Table on February 16. Teams were divided into three groups - nations, MNCs and banks. The model was based on interaction between these entities of the financial world. The goal for each team was to negotiate and satiate their need in a simulated scenario where strength of each currency changed dynamically.

Startup Yatra Punjab "Boot Camp"

Thapar Institute was selected for Startup India's "Boot Camp" during Startup Yatra Punjab, flagged off in Chandigarh by the Chief Minister of Punjab. The Boot Camp was held on 18th January at the TI campus.
Guest Lectures by Industry Experts

Society of Mechanical and Industrial Engineers (SOMIE) organised a seminar cum training programme on 24th January, with guest lectures by renowned industry experts.

STRATAGEM '19

Thapar Institute's ECON Club hosted the 2nd edition of its annual economics fest, STRATAGEM'19 from 1st to 3rd February. A series of daily life economics-based events were organised to develop and test the marketing, planning and thinking skills of the participants.
Thaparlympics 2019

The 10th season of our inter departmental sports competition, Thaparlympics 2018-19 was kicked off in the month of January. Held over a period of three months, the event saw competitions in badminton, table tennis, lawn tennis, basketball, volleyball, football, cricket and athletics, to name a few.
Venture Lab Weekend with Mr. Neil Sheriden

The 3rd Venture Lab Weekend was organised at TI from February 22-24. 135 students participated, including 20 students from LM Thapar School of Management. Team Byko stood first and received a cash prize of Rs. 35,000 for their travel cum tech idea. Team Kitablo, the runners up won Rs. 20,000. Mr. Sanjay Gupta from Connecting Universe (Dubai) announced a fund of Rs. 1,00,000 for the next event.

URJA '19

Thapar Institute organised URJA '19 from 15th to 17th February. More than 20 institutes and 700 students participated in this national-level, inter-college sports fest. Athletes from TI won medals and trophies in various individual as well as team sporting events, including basketball, volleyball, football, badminton, table tennis, cricket, chess and several track and field events.
Industrial Visit to HPCL-Mittal Energy Limited

AIChE Student Chapter TIET organised an industrial visit to HPCL-Mittal Energy Limited (HMEL), Bhatinda for chemical engineering students (1st, 2nd, 3rd year) on 14th February, 2019.The students got an exposure of unit operations and processes involved in the refineries.

SCI FEST 2019

Four schools of Thapar Institute - SPMS, SOM, SEE and SCBC organised SCI Fest 2019 on February 21. Eminent scientist Dr. R. K. Sharma graced the occasion as Chief Guest. More than 300 students from Punjab, Haryana and Chandigarh participated in the event. Different competitions like Poster Presentation, Scientific Quiz, Project Demonstration and Scientific Rangoli were organised.

For his outstanding contributions to the field of concrete technology, Dr. Maneek Kumar, Dean of Student Affairs was named "Outstanding Concrete Technologist for the Year 2018" by Indian Concrete Institute on Concrete Day in Chandigarh on March 11, 2019.
| | |
| --- | --- |
| | Dr. Dinesh Goyal, Professor and Former Head, Department of Biotechnology and his student Simarpreet Kaur Chawla received the 'Best Paper Award Certificate' for their presentation on bioconversion of sugars in acid hydrolysates of rice and wheat at IIT Roorkee. |
| | |
| --- | --- |
| Dr. Harish Garg from the School of Mathematics has been appointed as a Research Advisor at Nan Yang Academy of Sciences, Singapore. | Dr. Mukesh Kumar from the School of Physics and Material Sciences delivered an "Invited Talk" at the international conference on "Photonics, Metamaterials & Plasmonics" (PMP-2019), held from February 14-16 at Jaypee Institute of Information Technology (JIIT), Sector 62, Noida. |
| | |
| --- | --- |
| Under the TEQIP-III programme sponsored by MHRD, Dr. Amandeep Oberoi from the Department of Mechanical Engineering delivered an expert talk on 'Graphene for Energy Storage - A Carbon-H Park Concept' at UIET, Kurukshetra University on February 26, 2019. | Dr. Anoop Verma from the School of Energy and Environment has been invited to attend the INSA-SASA Bilateral Exchange Programme in May 2019, to be organised by Indian National Science Academy in collaboration with Slovenia Academy of Sciences and Arts. |
Dr. Mukesh Kumar from the School of Physics and Material Sciences was Chief Guest at the annual function of SPS International School, Sirsa.
Ms. Pawandeep Kaur, a PhD student and Dr. Diptiman Choudhury from the School of Chemistry and Biochemistry have developed insulin coated silver nanoparticles, which can cause significantly faster wound healing in vitro with human skin cell lines and in vivo diabetic and non-diabetic animals. Further, they have proved that insulin-nanoformulation can modulate an inflammatory pathway, and induce epithelization and tissue remodeling to promote wound recovery. The work got published in two reputed peer reviewed SCI journals, Nanomedicine: NBM 2019 and Biomol. Concepts, 2019.
Dr. Harish Garg from the School of Mathematics has published a paper in IEEE Transactions on Fuzzy Systems, SCI: Impact Factor: 8.415. In this paper, a new theory for solving the decision-making problems under uncertain environment is described by using the features of qualitative information.
Minors in CSE - 8 New Optional Courses for Non-CSE Students
| | |
| --- | --- |
| | With effect from July 2019, a number of courses shall be offered to all students of non-CSE streams admitted in session 2018-19. Students who will complete five courses would be given a certificate of "Minor in CSE" upon completion. |
Avinash Jain, an India-based security researcher and Thapar Institute alumnus (Computer Science, 2012-16) exposed a security lapse at NASA by finding a buggy internal server that was leaking sensitive information about the agency's staff and work.
TI was ranked joint 22nd within India by the Times Higher Education (THE) Rankings 2019 announced in 2018.
NAAC accredited Thapar Institute with grade A+ on 4th March 2019 for a period of 5 years.

| | |
| --- | --- |
| Rotaract Club, Thapar Institute celebrated Lohri with the residents of an old age home. They danced together on Lohri songs, ate sweets, and ended the day with some 'paath' and 'ardaas'. | Rotaract Club, TI organised a 'Clothes Donation Drive', collecting clothes from the TI campus and distributing them in Truck Union, a slum area in Patiala. |

Har Hath Kalam (HHK) India Association, organised an event named "JOSH" on 17 February, 2019. The motive of the event was to raise community awareness towards child begging.
| | |
| --- | --- |
| A silver jubilee reunion of the 1989-93 batch was held on 22nd December, 2018 at Thapar Institute, Patiala. The event was attended by about 72 alumni. | A reunion of the 1968-72 batch was held on their Golden Jubilee in the Patiala campus. The event was attended by about 60 alumni on 24th November, 2018. |
| | |
| --- | --- |
| Thapar Institute hosted a golden jubilee reunion of the 1964-68 batch on 25th November, 2018 in the Patiala campus. The event was attended by about 58 alumni from this batch. | A reunion of the 1979-83 batch was held on 10th November, 2018 at Chail, Shimla. The event was attended by about 56 alumni from this batch. |
| | |
| --- | --- |
| The batch of 1980-84 had a reunion in Panchkula on 25th November, 2018. The event was attended by about 50 alumni from this batch. | The batch of 1973-77 met in Kandaghat, Shimla for a reunion on 24th November, 2018. The event was attended by about 40 alumni. |
| | |
| --- | --- |
| At the 32nd Convocation on 15th November, 2018, Thapar Institute honoured Mr. Ashok Khosla (batch of 1973-77), Founder, Om Associates; and Mr. Sunil Duggal (batch of 1979-83), CEO, Hindustan Zinc Ltd. with the Distinguished Alumni Award - 2018. | Thapar Institute of Engineering and Technology felicitated its alumna Milanpreet Kaur on 25th February, 2019. Milanpreet has been working as a software engineer at Microsoft and has led multiple outreach programs for the software giant in India. She was named the winner of Miss India Washington USA 2018. |
Meet The Thapar Trinity Teaching Fellows (TTFs)
Our Faculty members are a critical enabler of TIET's journey towards continuously driving excellence . To this end, we are ensuring a significant focus on Faculty Development. An important part of this initiative is the New Directions Programme being conducted by faculty from Trinity College, Dublin. To maintain continued focus on Faculty Development, we are building in-house capabilities through sending our own selected faculty for a rigorous six week Training Programme conducted by Trinity in Dublin where they are certified to deliver the NDP in-house. During this programme, they are exposed to high quality teaching and research in the area of reflection, feedback, assessment and integrating the two. They are also given first-hand experience of academic administration through VLE (Virtual Learning Environment), which sensitizes the need for incorporating technology in the teaching-learning process.
The first batch of 5 went in 2018 and the second batch of 4 have recently returned. Over the last year the first batch has been working in tandem with the Trinity team, initially assisting and now independently handling the NDP modules. Apart from that, they have also developed modules that are relevant to TIET's environment.
The motivation and impact of the Fellows is already being seen beyond the NDP as they take initiatives that focus on Faculty Development such as developing and delivering a customised Training Programme for Teaching Associates, facilitating Communities of Practice discussions and organizing relevant knowledge sessions for faculty.
So, get to know more about your colleagues. While they come from diverse backgrounds and different experiences, they are united by the passion for enhancing TIET's efforts towards Faculty development.
Dr Khanna is a self-motivated, highly passionate alumnus of NIT Kurukshetra, IISc Bangalore. With varied industry experience, 11 of his 30 years were involved in R&D at HARTRON. For the last 19 years at TIET, apart from teaching and research, he has contributed to University as Head, Electronics and Communication Engineering Department, Coordinator of Distance Education Department and Member of various committees besides attracting research projects worth 307 Lacs.

In his free time, he likes listening to music and reading books.
| | |
| --- | --- |
| | Dr. Kaur, a PhD in Artificial Intelligence from TIET, with 21 years teaching and research experience, joined her Alma Mater in 1997. Her main research interest includes Artificial Intelligence, Control Engineering & Renewable Energy. Under her guidance, the student team "Oorja", developed solar car "Etron" and won prizes in Effeycar national competition and another car made by the team won 5 prizes in the National '18 GoKart competition. Apart from her academic responsibilities, she is also President of Adventure club and Warden of Iconic Hostel-N, the largest girls student residence. During her free time, inspired by her mother, she plays the harmonium and paints. |
Dr. Rana, a PhD in Mathematics, joined TIET in 2008 after 4 years of prior experience in other Educational Institutes. She is currently the Principal Investigator of two major research Projects in Partition Theory worth Rs. 30 lakhs. Apart from her research interest, she is a very enthusiastic teacher and enjoys helping her students learn.

Her hobbies include gardening and interior designing.
Dr. Brar, having a total of 17 years' experience, worked as research fellow in the prestigious IISC Bangalore before joining TIET in 2008. Her main research interests includes carbon nanostructures for charge storage and waste water treatment applications, Langmuir-Blodgett films and Scanning Probe Microscopy.

During her spare time, she is a keen reader of fiction and an ardent watcher of movies.
| | |
| --- | --- |
| | Mr. Bose joined TIET in 2008. He started his professional career as a marketing professional after completing his Masters in Business Management. He worked in companies like GlaxoSmithKline and Dabur India for ten years in their marketing and sales promotion department. His specialization is marketing and entrepreneurship where he is working on Business Incubators. He is an avid reader and loves interacting with people. |
After his MBA in 1997, Dr. Ghuman has been a teacher by choice for the last 21 years. Before joining LMTSOM in 2013, he had experience as Professor and Campus Director apart from working as Trainer and Consultant with the Ministry of Tourism, based in State of Eritrea (North East Africa).

He has recently developed two hobbies - investing in the stock market and weight training. He finds both very fulfilling as going to the gym keeps him in shape, whereas investing in stocks helps in managing his wealth and also the knowledge gained improves his teaching.
Dr. Verma who belongs to a family of Engineers, took up teaching as a profession and joined TIET in 2004, inspired by his father who was also a lecturer. Apart from other interests, he has dedicated himself to active research in the area of waste water treatment.

An extrovert, he likes to make friends and build long and healthy relationships with them. During his leisure, he loves spending time watching and listening to Mother Nature.
Dr. Kaur worked in the banking industry for about 3 years after completing her MBA in Human Resource Management. During her 17 years as a teacher, she has taught subjects like Human Resource Development, Entrepreneurship and Professional Communication. The exposure to industrial practices has helped in making her teaching more focused and relevant.

She is a voracious reader, though travelogues are her favorite. Interested in new, challenging skills she takes up adventure sports like paragliding and para sailing whenever she finds the opportunity. Her motto is 'Be positive and look for positivity around you'.
Dr. Nijhawan has nearly 20 years teaching experience of which 18.5 year have been with TIET. Besides him, in his family, his brother and his father are also Engineers. His current areas of research interest include Power Quality and Custom Power, Grounding, Energy and FACTS.

During his spare time, he relaxes listening to songs from his rich collection from Hindi movies and Jagjit Singh Ghazals.

A team of experts from China, along with scientists from CSIR-NPL, visited our campus to study and find solutions to the alarming problem of air pollution in Delhi and other parts of northern India. The visiting team comprised Prof. Jiang Zhu, Director, IAP, China; Prof. Zifa Wang, Director, LAPC, China; Prof. Pingqing Fu, Tianjin University, China; Prof. C. Mouli Pavuluri, Tianjin University, China; Dr. Zhanjie Xu, Tianjin University, China; Dr. Siyuo Yue, Institute of Atmospheric Physics, China; and Dr. Khem Singh, CSIR-NPL, New Delhi.
| | |
| --- | --- |
| Melissa McArdle of University of Queensland visited the TI Campus to interact with prospective students of the 2+2 International Engineering Programme (IEP). | Dr. Shri Ram, Deputy Librarian of Nava Nalanda Central Library visited Berkley Library of Trinity College Dublin during January 26 and February 7, 2019. The purpose of the visit was to have an idea exchange between two libraries and strengthen the library services of Thapar Institute. |

A team from the University of Leeds, UK visited Thapar Institute in February 2019 for student exchange in the UG programme of the Department of Chemical Engineering. The team reviewed the curriculum and discussed the modalities of the credit transfer/exchange programme. During the three-day visit, research areas of common interests were deliberated for collaborative research as well.
Digital Marketing Workshop

On 24th February, LM Thapar School of Management successfully organized a four-day Skill Development Workshop on digital marketing, conducted by Associate Professor Dr. Amit Kumar Bharadwaj.

Inter House Debate

An inter house debate was organised by the public speaking club of LM Thapar School of Management to fill the void in the intellectual space and provide students a platform to enhance their oratory skills and confidence. Dr. Ankit, Dr. Gurparkash and Dr. Abhishek presided over as jury for this event. House Globals won the debate and the Best Orator award was shared by Yash (CSE) and Harsimar (MBA-2).
Paryavaran 2.0
An initiative-ideology of LM Thapar School of Management to promote environment-friendly and sustainable practices, PARYAVARAN 2.0 witnessed the participation of 200 individuals (students, faculty, experts). Participating institutes included Shaheed Udham Singh College of Engineering & Technology, Mohali; Shri Sukhmani Institute of Engineering & Technology, Dera Bassi; Sri Sukhmani Institute of Hospitality and Management, Dera Bassi; ICFAI University, Himachal Pradesh; and Punjab Engineering College, Chandigarh. The event was also attended by 50 farmers from the villages of Behra, Fatehpur, Rampur Sanian and Bhagwanpura.
Advanced Excel and VBA Workshop
Coordinated by Dr. Vipul Gupta, Associate Professor, Operations Management, a three-day Advanced Excel and VBA Workshop was organized by the Centre of Excellence and Analytics, which emphasised on enhancing student knowledge of MS Excel. The workshop was conducted by CEO, Salesgasm, Mr. Dhiraj Dev Phukan - a prominent speaker and chair of several global conferences.
To be a Thapar Achiever, one must not only chase excellence in academics, but also gain empirical knowledge. Watch and learn from Ankush Narula, a TI gold medalist from Mechanical Engineering and President's medal winner as he walks you through his success story.
ACUMEN - The inter hostel literary festival - 22 to 25 April 2019
Orientation Program for first year - PROEM: 15 to 26 July
Editorial Co-ordinator:
Dr. Sheena Chhabra & Mr. P.B. Sukumaran
Designed & Developed by:OMLogic