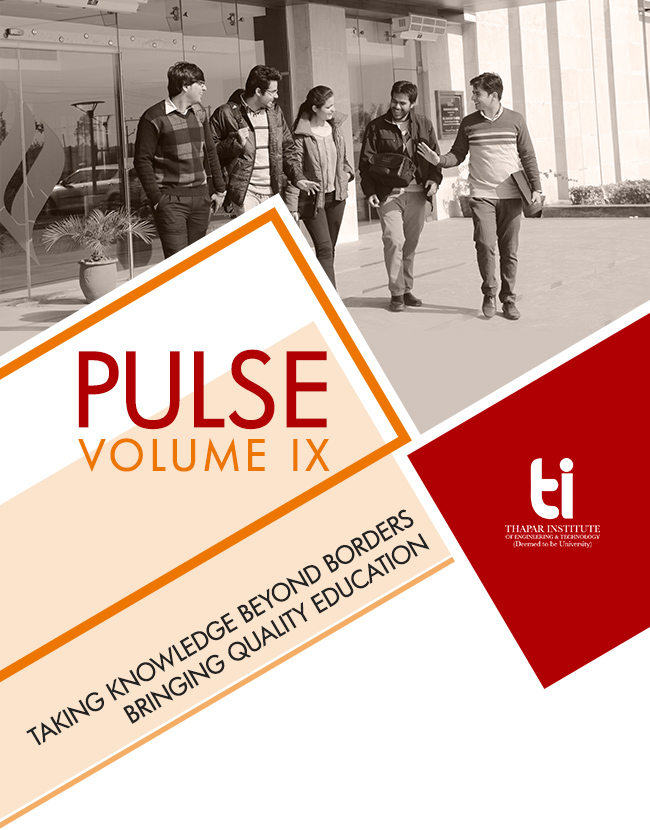 The Food Security Centre of Excellence

Thapar Institute collaborated with Tel Aviv University for Food Security Science and Technology Centre of Excellence. A joint initiative of Thapar Institute and Tel Aviv University (Israel) approved 5 interdisciplinary research projects under Professor Yosi Sacham - Chair Professor and International Director.

TIET-VT Center of Excellence for Emerging Materials (CEEMS)

Thapar Institute & Virginia Tech (USA) collaborated to build TIET-VT Center of Excellence for Emerging Materials (CEEMS). A collaborative research center under Chair Professor Roop L. Mahajan and Professor Rajeev Mehta for improved research quality across disciplines and specialisations. The $2 million outlay over 5 year period boosted 11 "game changer" research projects.
Centre of Excellence for Advanced Manufacturing

A joint initiative of Thapar Institute and Tel Aviv University, Israel. Prof. Noam Eliaz, an internationally recognized scholar is appointed as the Chair Professor. TIET delegation will visit Noam at TAU to develop a comprehensive proposal soon.
Thapar Institute introduces individual microsites for its various departments/schools with placement records, faculty, mission & vision, top recruiters, programmes offered, research facilities, etc. because best decisions come out with information.
NBA Accreditations 2020
Thapar Institute's Computer Engineering, Electrical Engineering and Mechanical Engineering programmes receive NBA Accreditation upto June 30, 2023.
ThapSat

Under the mentorship of Dr. A.S.Pillai (DRDO Chair, IIT-Chennai) and Dr. Prakash Gopalan (Director, TIET) a group of 30 under-graduate students (first year and second year B.E) and four faculty members started the ThapSat project. The project is fully funded by TIET with an approved budget of 3.5 Cr. ThapSat intends to pursue Pollution Monitoring in Punjab region to combat the smog using Micro/Nano-satellite with a dedicated payload using detector based Infra-Red camera.
Research on Breast cancer detection using RF and microwaves

Ms. Gagandeep Kaur (PhD student, ECED) and Dr. Amanpreet Kaur (Sr) (Assistant Professor ECED) publish a research paper entitled "Breast Tissue Tumor Detection using 'S' Parameter Analysis with an UWB Stacked Aperture Coupled Microstrip Patch Antenna having a '+' shaped Defected Ground Structure" in a SCI journal "International Journal of Microwave and Wireless Technologies". The paper highlights the use of RF and antennas for detecting a tumour in a human breast phantom and localizing its position using image processing.
3rd Batch of TTFs (Thapar Trinity Fellows) gets trained at Trinity College Dublin, Ireland

The third batch of faculty comprising of Dr. Tejinder Paul Singh, Professor MED, Dr Manmohan Chhibber, Professor SCBC & Dr Amanpreet Kaur, Assistant Professor, ECED visited Trinity College Dublin (TCD), Dublin, Ireland from January 13 to February 21, 2020, for attending Train-the-Trainer programme under contemporization initiative of the institute. The programme included three advanced modules on 'Curriculum Development', 'Reflections', and 'Assessment Literacy' which involved extensive classroom teaching & discussions, presentations and assignments. They also worked on designing a complete system of carrying out of Capstone projects including 'Journey towards Capstone' (pre-prepation), curriculum development, assessment components & rubrics and detailed procedure with control points.
MEET THE TTFs

Prof. Tejinder Paul Singh is presently working as Professor & Head, Department of Mechanical Engineering at Thapar Institute of Engineering & Technology, Deemed to be University (TIET), Patiala. Professor Singh has 31 years of teaching and research experience and ten years of industrial experience. He joined Thapar Institute of Engineering & Technology in 1988 and continued till August 2008. During this period, he occupied the positions of Professor & Head, Mechanical Engineering Department, Head Central Workshop, Dean Academic Affairs, Dean Resource Planning and Generation and the Acting Director of the Institute. Dr Singh got into the leadership role in March 2010 as the Director of Symbiosis Institute of Technology and Dean Faculty of Engineering, Symbiosis International University Pune and continued in these positions for close to eight years. He returned to TIET in January 2018. Dr Singh works in the area of manufacturing with special interest in Lean Systems, Total Quality Management, Non-traditional Manufacturing and Additive Manufacturing. He has guided 19 PhD students and has a large number of publications in refreed journals of repute. He has also carried out sponsored research projects, infrastructure projects and many industrial consultancy assignments. He has also been a Visiting Faculty at Purdue School of Engineering & Technology, Indiana University Purdue University Indianapolis (IUPUI), USA.
Prof. Manmohan Chhibber, a PhD from Department of Chemistry, Panjab University, Chandigarh (2003) was post-doctoral fellow at Indian Institute of Science (IISc), Bangalore before joining Thapar Institute of Engineering and Technology (TIET) in 2007. He worked as assistant professor, associate professor in School of Chemistry and Biochemistry at TIET, Patiala before being promoted to Professor in 2019. Prof. Chhibber has been associated with both undergraduate and postgraduate teaching at TIET since his joining, besides guiding PhD students. He has an alluring teaching style that includes flipped class room, role plays, think pair-share and discussions. He is among first batch of TIET faculty members who completed "New Directions Program" in collaboration with Trinity College, Dublin, Ireland. A great motivator for students, Prof. Chhibber has been a student consultant, personal councillor, faculty co-ordinator for job placements and for the PhD programme. At present, he is course co-ordinator for applied chemistry for 1st year B.Tech students that involves more than thousand students. Prof. Chhibber's research group has two major research themes. Synthesis of fluoroquinolone based antibacterial compounds and diphenyl ether based organic sensors for biologically active molecules. He has active collaborations across TIET and with many prestigious institutes across the country.
Dr. Amanpreet Kaur a PhD in "Microstrip Antennas for Wireless communications" joined TIET in 2006. Apart from her research on RF and microwave detection and treatment of Cancer cells, she has a passion and zeal for teaching since last 14 years of her teaching career at TIET. She has contributed to various administrative activities at TIET, from being the warden of girl's hostel, NSS coordinator of ECED to the CAPSTONE PROJECT coordinator of ECED. She is also the PI of two government funded research projects worth 25 lakh rupees. Her favourite leisure time activities are gardening, cooking and enjoying light music.
Thapar Post-doctoral programme for faculty
Started in 2017, the post-doctoral programme for Thapar Institute faculty is a great success. 26 faculty members availed the facility in 2020 with 4 at Trinity College (Dublin), 1 at Tel Aviv University (Israel) and 1 at Virginia Tech (USA).
World-Class Infrastructure

World-class infrastructure of Thapar Institute's boys hostel makes a mark at global platforms by appearing on front cover of magazine 'Architecture Ireland'. A special mention about the large-sized social areas and nature-infused landscaping.

Department of Mechanical Engineering & School of Energy and Environment receive FIST funding

Two departments receive 'Fund for the Improvement of S&T Infrastructure in Higher Educational Institutions (FIST)' funding.
Eureka 3.0

Thapar Amateur Astronomers Society (TAAS) conducts Eureka 3.0 - a symposium based on Astronomy and Astrophysics. IISER Mohali and TIET professors deliver lectures on science and related research fields.
Central Library hosts Annual Book Fair

A literary fiesta for all the readers! Central Library, TI organises the Annual Book Fair from January 21-22, 2020. Featuring a wide array of academic books, new releases and a special quiz with exciting gift hampers.

Central Library organizes Mendeley library workshop

Central Library, TI organises a workshop on Mendeley Reference Management Software for lessons on managing references for research writing.
Smart India Hackathon

TI Hackathon for students to form team of 6, ace the software version or hardware version and win exciting cash prizes at the national level.
Thapar Mathematical Society (TMS) workshops for students

Thapar Mathematical Society and School of Mathematics has organised a one day workshop on "Matlab and differential equations" on February 15, 2020. A total of 48 students participated including undergraduate students at TIET and Graduate students from TIET and other institutions. The workshop was much enjoyed with fine mathematics responsible for solving complex differential equations. As an application, students related the workshop to modeling problems. Apart from lectures, there were lab sessions where students practiced the ODE solver in MATLAB.

A "Two-day workshop on Mathematical Modeling and Computational Techniques" was organized by Thapar Mathematical Society, TIET Patiala on February 24-25, 2020. The event was a huge success with around 60 participants collectively from TIET and other universities. The focus of the workshop was on the fundamentals of Mathematical modelling and the computational techniques.
Expert talk organised by Department of Mechanical Engineering

Department of Mechanical Engineering organises an expert talk on "Uses of PTC software products for Industry 4.0" by Mr. Ashwani Muraal, Academic Program Manager-India & SRIM, PTC Academic Program and his team.
Industry Engagement Office and School of Mathematics organizes a workshop on "International Derivatives"

Futures First (of Mauritius-based Hertschen group) organises a 2-hour interactive workshop by Mr. Nitesh Bansal, Global Head of Commodities Research on global derivatives industry trends on February 5, 2020. Workshop includes scope, tools and skills, market behavior and related concepts.

TIFAC-CORE and PTCA organize a National Symposium on trends in plant biotechnology and agriculture

National Symposium on 'Trends in Plant Biotechnology & Agriculture' which addresses plant productivity. 250+ delegates, eminent scientists, young researchers from across India deliberate at the event. Sponsors include DST, CSIR and private sector organisations.
ED Cell organizes E-summit

EDC organises three-day flagship event- E-summit, which unfolds as 'UNWIND' Day 1, Business Game Day 2 and Internship Fair on Day 3. Guests from web series "The Kota Factory", popular YouTubers, and successful entrepreneurial women attend. A workshop for startups and budding entrepreneurs on 'how to start a business for under US$ 30.

A workshop on Cognitive Behavior Therapy by SHSS

Renowned professors from University of Groningen conduct a workshop on 'Cognitive Behavior Therapy' from February 10-15, 2020. Professor Ajay Batish, Deputy Director inaugurates the event.
IPR cell of TI and Cell for IPR promotion and Management, GoI organize a workshop on IP commercialization and Technology transfer

IP Commercialization and Technology Transfer' workshop with eminent industry speakers speaking on how intellectual property can be used to empower women. Brought to you by IPR Cell, TI in collaboration with PSCST, CIPAM and DPIIT, GOI.
Workshop on "Design and Characterization of Microwave Components and Antennas (DCMCA-2020)

A hand-on training workshop "Design and Characterization of Microwave Components and Antennas" was conducted during February 22-24, 2020 at the Department of Electronics and Communication Engineering, TIET, Patiala. The workshop was technically co-sponsored by IEEE APS Delhi Chapter and Jyoti Electronics, Ahmedabad. The objective of the workshop was to train participants about the basics of designing microwave components and antennas using commercial electromagnetic simulator CST microwave studio.
CAPSL showcase event 2020

75 Thapar Institute faculty members complete New Directions Program during 2019-20. 18 posters presented at CAPSL showcase event in February.
In frame: Participants presenting posters to Jury members.
Special lecture on 'Healthcare Informatics"

Dr. Conrad Attard and Dr. Lalit Garg, Department of Computer Information Systems, University of Malta delivers a special lecture on 'Healthcare Informatics' at TI.

Expert Lecture on "Mucin and Jellyfish-based novel nano-biocomposites for energy, food security and medical applications

An expert lecture for all science enthusiasts on nano-biocomposites for energy, food security & medical applications by Dr. Shachar Richter, Director: Wolfson Applied Materials Research Center, Tel Aviv University, Israel.
Interactive session on research by Prof Yosi Rosenwaks

An enlightening session for students and faculty on research opportunities available at TI, conducted by Prof. Yossi Rosenwaks.

Capstone Workshop

Professor Sanjeev Bedi, University of Waterloo, Canada conducts a workshop on "Capstone Projects" and the universal "Design Process".
In frame: Prof. TP Singh, TIET, presents report writing and assessment plans for Capstone Projects developed under CAPSL advanced training at TCD.
SCI FEST 2020

School of Chemistry & Biochemistry (SCBC), School of Mathematics (SOM), School of Physics and Materials Science (SPMS), School of Energy and Environment (SEE), School of Humanities and Social Sciences (SHSS) and Department of Biotechnology organised the SCI-Fest 2020, a career awareness program for 400+ students from across 16 colleges. Motivational lectures by professors from TIET, Virginia Tech (USA), Medicinal and CSIR-Central Drug Research Institute (Lucknow) and competitions like poster presentations, scientific quiz, project demonstrations were held.

SEE conducts a lecture on Importance of safety in steel making process

Shailesh Jha, Deputy Manager (Safety Engineering), SAIL- IISCO Steel Plant, Burnpur delivers an insightful lecture on 'Importance of Safety in Industrial Processes' at TI. He is an expert at inspecting and evaluating workplaces for safety hazards. He shared significant tips for safer workplace policies.
In frame: Mr. Shailesh Jha with Dr. Amit Dhir, Head, School of Energy and Environment.
Team Qudio

Team Qudio consisting of Shresth Arora (COE), Kuvam Devgan (ENC), Divyansh Rai (COE) and Siddharth Mishra (ECE), secures 2nd runners-up position at the NASA Space Apps Challenge- North Region (at Chandigarh University). Congratulations on developing an application to display live temperature, weather conditions, other satellite data on a virtual globe.
Team NOX, Dance Club won at MOOD INDIGO, IIT Bombay

Swaying to the beats of success, they make us proud yet again!
Heartiest congratulations to TEAM NOX Dance Club on securing 2nd position at one of the top cultural fests of Asia, Mood Indigo organised by IIT, Bombay.

RBI ZONAL competition

Our students Mayank Dhull, Kanak Sharma and Sanya Nandal win RBI regional Competition. Awarded certificates and cash prize of Rs 10,000 for best entry from the region. An exciting win for the TIET students indeed!
TIET students shine at URJA 2020

A round of applause for all TI students for their outstanding performances at URJA 2020.
Over 600+ students from 20 institutions across India participate and TI students display exceptional flair by securing 1st and 2nd positions in over 15 sports events.

Garima Johar's book

TI student Garima Johar pens her thoughts and experiences of fighting anxiety and living life to the fullest!
Aptly titled 'Color outside the lines- Let's double tap our imperfections', her book captures her inspiring and transformative journey.
Chetna Sharma awarded at Patiala heritage

TI student Chetna Sharma recognised for her 'heritage paintings' by Maharani Preneet Kaur (MoP), Raja Malwinder Singh, Rani Harpriya, Mr. Kumar Amit (Deputy Commissioner) and Mrs. Poonamdeep Kaur (Municipal Corporation Commissioner) at the Patiala Heritage Festival. A glimpse of her sharing the stage with Padma Bhushan Ustad Zakir Hussain at Qila Mubarak.

Thapar nautanki team secured second position at national social summit

Great achievements come with great hard work! Kudos to the Thapar Nautanki Team for securing Second position at the National Social Summit organised by IIT Roorkee. Many more to go, Thaparians!
TIET mechanical students outshine at Advitiya 2020

Double victory for TI mechanical students! Champions at Advitiya 2020 (IIT Ropar's Inter-University Technical Fest). Kudos for securing the first position in CADathon and SpeeDAC, for 3D and 2D creation/assembling respectively.
Harpreet Singh as most Valuable Professional

TI faculty Mr. Harpreet Singh, Computer Science and Engineering Department is Alibaba's Most Valuable Professional (MVP)! The award recognises talent that help shape the future of cloud computing with Alibaba Cloud suite.

Vikas Tyagi as ISCB young scientist

Dr. Vikas Tyagi, Assistant Professor, School of Chemistry and Biochemistry wins the 'Young Scientist award-2020' by the Indian Society of Chemistry and Biology (ISCB).
TI congratulates him for exemplary contributions in the field of chemical science.
| | |
| --- | --- |
| Dr Prateek Bhatia, Associate Professor, Computer Science and Engineering Department pens down his thoughts in a soulful hindi poem "Bharat". | Dr Prateek Bhatia, Associate Professor and Dr Sanmeet Kaur, Assistant Professor, Computer Science and Engineering Department compose a contemporary poem 'Prakriti ka Ishara'. |
Inspirational Journey of Ms Nishu

Ms. Nishu, successfully runs 10km Hiranandani Powai and 5.9km Dream Run Tata Marathon. A great achievement post her back injury during a horse ride expedition in the Indian Navy. More power to you!

Mr Harpreet Brar as Director of Sales and Marketing at Great Wall

Alumni success alert! Hardeep Brar joins - Great Wall Motor (GWM) the latest entrant in the Indian Automotive Industry and the no. 1 SUV company of China.
Dr Charru Malhotra

TI Alumnus Dr. Charru Malhotra awarded for her significant contribution in the field of technology enabled urban planning.
A cyber security expert, a panelist and a keynote speaker, her work is recognized by a host of eminent leaders like the Vice President of India.

Bhavya Khurana receives Marie Curie Fellowship

Prestigious Marie Curie fellowship for TI alumna Bhavya Khurana. Currently a PhD student at Trinity College Dublin and University of Limoges, France.
Mr Vinod Vashisth

Alumnus Vinod Vashisht's 35+ years' experience showcases a blend of academics, social consciousness and skill building. A renowned author and expert on Indirect Taxation, he is Chief Editor of a journal on GST, and is a noted Columnist as well.

Mr Deepak Mittal

TI alumnus, Mr. Deepak Mittal, Owner and Managing Director at Kunta International Ltd. recognised in The Limca Book of Records for 'design and manufacture of specialised projects'. Congratulations, way to go!
| | |
| --- | --- |
| | In frame: From left to right: Prof. Eda, Prof. Vijay Goel, Mrs Shashi Goel, Prof Ajay Batish, Prof Brent Cameron and Prof. R.S. Kaler |
TIET selected as a premier Indian institute eligible for student scholarships at the Australian Awards 2020 commencing 2020.
Rotaract Club, TIET organized Cloth Donation Drive

Rotaract Club, TI does Clothes Donation Drive for the poor and underprivileged.
Students distribute over 200 clothes to more than 75 homes. Let's help others with such initiatives.

Youth United organized a cultural event and handicraft exhibition for specially abled children

Youth United society, TI organizes cultural fiesta for specially abled children. The event 'SMILING FUTURE' endeavours to bring joy in the lives of special children.
At TI, we are proud of our women students, faculty, staff, alumni and other members who face, embrace and overcome life challenges with heads higher and smiles wider.
Editorial Co-ordinator:
Dr. Sheena Chhabra
Designed & Developed by:OMLogic