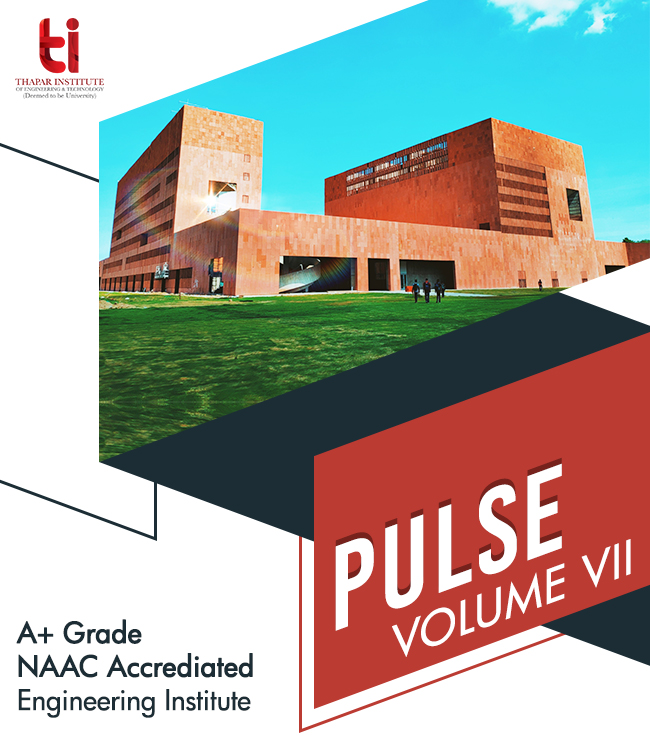 Australian Awards Scholarships 2019

Nimrat Singh Brar, Mechanical Engineering, batch of 2015-2019 nominated for Australia Awards Scholarships.

Formula SAE Lincoln, USA

Team Fateh, the formula racing team, successfully clears the technical inspection round at Formula SAE Lincoln. It also becomes the first Indian team to complete the Endurance Event, considered as the most challenging part of this competition.
Inter Technology University Tournament 2019-20, NIT Kurukshetra

TIET's basketball women, men and yoga women teams win gold, silver and bronze medals respectively. This Inter Technology University Tournament was organized by ITUSA at NIT Kurukshetra.
| | |
| --- | --- |
| Netra Hirani, first year student, publishes her poetry 'Breathings'. | Gaganggeet Singh Aujla (2018) and Anish Jindal (2019) receive the Outstanding PhD Dissertation Award from the IEEE Technical Committee on Scalable Computing. |
Best Club of RID 3090

Rotaract Club wins the 'Best Club of RID 3090' and comes 2nd at the Inter District Event 'Diwali Khushiyon Ki'.
| | |
| --- | --- |
| Dr. Rajeev Mehta invited to be jury member and judge at the International Conference on Polymer Science and Technology 2019, Berlin, Germany. | Dr. Amandeep Singh Oberoi (Assistant Professor, MED) and Dr. Parag (Associate Professor, EIED) contributed to 'Energy Outlook 2019'. This is an international magazine which focuses on energy trends in BRICS countries. |
| | |
| --- | --- |
| Ashok Khosla, Founder, Om Associates, honoured with the Singapore Indian Entrepreneur of the Year Award. | Madhur Gupta bags the prestigious 'French National Centre for Scientific Research Fellowship. This coveted fellowship is offered to less than 10 students annually. |
| | |
| --- | --- |
| Robin Raina, Chairman and CEO of Ebix Inc (a multinational software services provider) acquires Yatra in a ₹2327 cr deal. | Manpreet Singh, TIET alumni makes valuable contributions to the Proton Treatment Center, Maryland, USA. |
| | |
| --- | --- |
| Rishabh Gupta of Mechanical Engineering (2011-2015) is ranked 36th in the Central Armed Police Forces (CAPS) exam conducted by UPSC. | Bhaskar Reddy of Mechanical Engineering from TIET, crosses the English Channel, one of the most difficult open water swims in the world. |

TIET students, in collaboration with scientists from Tel Aviv University, Israel to implement innovative digital techniques in agriculture, thus making Haryau Kalan the first 'Digital Farming Village' in India.
| | |
| --- | --- |
| Ms. Aditi Bajaj, a Ph.D. student, Dr. Sanjay Kumar from Electronics and Communication department published a paper in Biomedical Signal Processing and Control Journal (ELSEVIER), SCI: Impact Factor 2.943. In this paper, a novel technique is presented for the detection of QRS complex in the ECG signal. Due to time-varying (non-stationary) nature of ECG, the QRS detectors are unable to detect the R-peaks accurately. The qualitative and quantitative analysis has shown remarkable performance as compared to other state-of-the-art methods by achieving an error rate of 0.03%. Also, the proposed method has shown much better results for detecting the R-peak of unclassifiable beats which normally, is missed by QRS detectors reported in literature. | Muskaan Singh, Ravinder Kumar & Inderveer Chana from Department of Computer Science and Engineering, receive the 'Best Technical Paper Award' for their research paper 'Improving Neural Machine Translation using Rule-based Machine Translation'. |
B.E. Computer Engineering programme accredited by ABET retrospectively from October 1, 2016 to September 1, 2022.
Orientation Week

TIET's Orientation Week recorded a terrific participation in a variety of engaging events like Whodunit, Game of Wits, cultural workshops, guest lectures, Informal Games and House of Frosh.

Frosh Week 2019

Celebrates the beginning of a new session with pure passion.
Collaboration with the Food Security Centre

TIET and PAU, Ludhiana sign a bilateral agreement to collaborate with the Food Security Centre. PAU Vice Chancellor, Padmashri Prof. B.S. Dhillon signs the agreement.

Interaction with His Excellency, Mr. Brian McElduff, Ireland's Ambassador to India

Irish Ambassador, Mr. Brian McElduff visits TIET and interacts with faculty members. His Excellency planted a sapling at the Central Library.
Grid Station Inauguration

A new 66 KV grid station inaugurated at Thapar Institute.This project will help in matching the increased demand and will cater to future demand.

Library Inauguration

The new library in TIET inaugurated. It houses over 1.2 lakh books, including 40,000 electronic journals and 35,000 e-books. With such an impressive collection and round-the-clock access, let's keep the spirit of learning alive.
Workshop on Water & Wastewater Analysis

School of Energy and Environment organizes a workshop on Water and Wastewater Analysis. This workshop was about optimising output from existing wastewater treatment plants.

Hackathon by Mr. Rishabh Vij

ED Cell, TIET organized an expert lecture by Mr. Rishabh Vij to help students crack good job opportunities in the programming field.
Lecture on 'Understanding Link Between Baby and Adult Sleep'

Department of Biotechnology organizes a lecture on 'Understanding Link Between Baby and Adult Sleep' by Dr. Shahnaz Rahman Lone, recipient of the prestigious Ramanujan Fellowship in 2016.

Skill Enhancer Training Programme

Centre for Training & Development (CTD) conducted a special programme to prepare students for campus placements.
Thapar Food Festival 2019

Thapar Food Festival 2019 witnessed huge footfalls and participation including BurgerKing, PizzaHut, Keventers.

CAPSL Workshop

TIET organizes CAPSL workshops on 'New Direction Programme in Teaching and Learning' and 'Developing Creative Teaching and Learning Approaches'.
Lecture on 'General Relativity: Basics and Advances' and Mathematical Colloquium

School of Mathematics organizes a special lecture series on "General Relativity: Basics and Advances by Dr. Carlos Perelman, renowned scientist from Clark Atlanta University, USA.
The School of Mathematics organizes a mathematical colloquium on the 'Riemann Hypothesis, Complex Scalings and Logarithmic Time Reversal'.
National Grandparents Day

Rotaract Club, TIET visited an old age home on the occasion of National Grandparents Day and organised a special cake cutting ceremony.
Editorial Co-ordinator:
Dr. Sheena Chhabra
Designed & Developed by:OMLogic