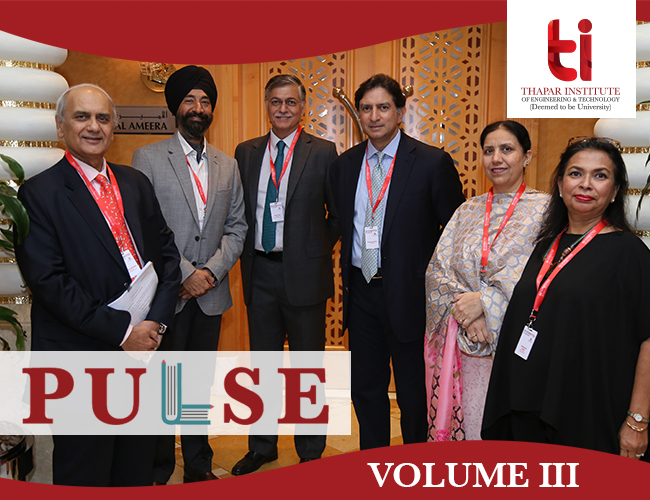 At the Deloitte TechnoUtsav, machine learning and sentiment analysis win TI students laurels. Students were first runners-up in the Hackathon. Their prototype help detect twitter users with depression. Final year students Devanshu Narula, Chirag Garg and Aneesh Jain developed a system classifying users as depressed or not depressed, using machine learning and sentiment analysis with Twitter data.

The students went through several rounds in the Hackathon, including an MCQ test, idea submission, basic prototype building, and final prototype submission with presentation. It was held in Deloitte University, Hyderabad and were awarded a sizeable cash prize.
| | |
| --- | --- |
| | TIET alumnus Mr. Sunil Duggal, CEO of Hindustan Zinc is appointed as the President of the Federation of Indian Mineral Industries (FIMI). TI is delighted and proud of his achievements. We hope that he keeps scaling even greater heights. |
| | |
| --- | --- |
| Professor Ravi Kiran wins the Emerald Literati Award for her outstanding paper published in Nankai Business Review, co-authored by Urvashi Tandon and Ash N Sah. | Dr. Amandeep Singh Oberoi, Assistant Professor, Department of Mechanical Engineering, invited to the 4th Summer School of Sustainable Chemistry for Sustainable Development at the University of Leuphana, Germany. |
| | |
| --- | --- |
| Dr. Sanjai Saxena, Professor and his team win the University Challenge at India Innovation Growth Programme (IIGP) 2.0 Awards. | Dr. Richa Babbar, Department of Civil Engineering wins the prestigious Indo-US Fellowship for Women in Science, Technology, Engineering, Management and Medicine. Highly competitive with numerous applications, Dr. Babbar is among 10 women selected under Women Overseas Fellowship Module. |
In his research, Dr. Siddique focuses on the utilisation of waste materials and by-products in the design and development of cement based material and concrete, to help save cost in concrete production and land filling.
Dr. Rajeev Mehta, Professor of Chemical Engineering awarded "Best Innovative Young Researcher" by SRM University. His seminal research in the development of graphitic foams and almost defect-free thin films for non-linear optical properties determination for the US Air Force wins him the award.
Dr. Shweta Goyal, Department of Civil Engineering and Dr. M.S. Reddy, Department of Biotechnology are working on innovative technology to make self-healing concrete.Till now, they received grants of Rs. 200 lakhs from multiple agencies including DST and NBCC. Their research can be applied in several manufacturing industries to cut costs and increase durability.
Headed by Dr. S. S. Mallick (PhD, UoW Australia), the Particle and Bulk Solids Research Group at the Department of Mechanical Engineering, is actively involved in research and consulting in industrial bulk solids storage, transport and dust control systems. The aim is to develop and transfer reliable, safe and energy-efficient particle and bulk solids handling and processing technologies for industry.
Dr. Anoop Verma's research work is scaled-up with development of pilot-scale fixed-bed solar reactors. To the best of our knowledge, this is the first ever reported study in terms of fixed-bed in-situ dual effect with such prolonged durability of composite material.
Dr. Ravinder Kumar Duvedi publishes 18 research papers in reputed journals and conferences. The major research outcomes from his recent work are the development of algorithms for five-axis computer numeric control machining of curved sculptured surfaces, tested to enhance the surface machining productivity multifold in comparison to current industrial methods.
Dr. Ajay Batish, Deputy Director, TI and Prof. Raanan Rein, Vice President, Tel Aviv University, Israel sign a Memorandum of Understanding agreement between the two institutions. Mr. Gautam Thapar, President TI, Mr. RR Vederah, Chairman Board of Governors TI and Dr. Prakash Gopalan, Director TI were present at this prestigious event.

University of Queensland's Angela Li and Jinendra Khara visit the campus for academic collaborations with multiple departments.
Rotaract Club organises health checkups at Bhai Kanhaiya Charitable Trust Old Age Home. Doctors and students helped make the health check up successful.

Rotaract Club visits Bhai Kanhaiya Old Age Home and celebrate Grandparents' Day.

Rotaract Club organises Road Safety Awareness Drive in Budha Dal Public School. While sub-inspector Gurhap Singh addressed the participants, the drive saw many interactive sessions, competitions and activities to raise awareness on making roads safer.

Food Festival
Main Feast Day was inaugurated by Dr. Maneek Kumar, Dean of Student Affairs and Dr. S. S. Bhatia, Dean of Academic Affairs. Over 150 food stalls were set up including Coca-Cola, Uncle Jack's, Taco Bell, Keventers, Super Donuts and Sagar Ratna.

FROSH Week
An event like no other, as students experience food , fashion to entertainment and sports. Countless memories and friends were made.

PROEM 2018
A new batch of innovators with a one of a kind orientation programme in the cultural week and technical week, had a lineup of events ranging from workshops, guest lectures and outdoor activities.

SOJHI
SOJHI Charitable and Welfare Society was launched by students. This was to emphasise the many agricultural issues faced by farmers in Punjab. The society has 11 founder members that help farmers to adopt the latest farming methods. The target is to adopt 35 villages for the year 2018-19.
KPMG - Six Sigma Green Belt Certification
KPMG conducted a four day certified program on Lean Six Sigma Green Belt. The programme aimed at improving competency of an individual to contribute towards organisational success through correct understanding of issues, make fact-based decisions and rectify unwanted elements within a process. Post completion of program and clearing of all mandatory tasks assigned during the session, students were issued a certification from KPMG.

Mr. Gautam Thapar, President of TIET, Mr. RR Vederah, Chairman, Board of Directors and Dr. Prakash Gopalan, Director of TIET addressed the energetic and lively alum. Special films to commemorate the occasion including, 'The gate of memories opens' was screened. The alum and their spouses said that they felt 'proud' and commended their alma mater .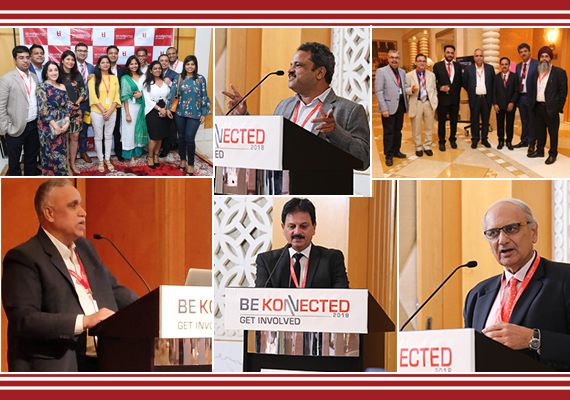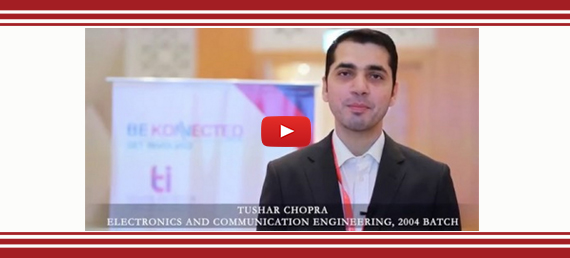 CAPSL - New Directions in Teaching & Learning
Experts from Trinity College Dublin, as a part of the contemporisation programme, conduct CAPSL for faculty. The focus of CAPSL being on student centred learning, the workshop sessions included curriculum, reflection, assessment, outcome-based approach and scholarship in teaching and learning.

MUDRA EVE
October 10-11, 2018
ELIXIR- The Inter Year Literary festival
October 29, 2018 - November 1, 2018

Kaleidoscope - A FAPS Exhibition
November 16-18, 2018

SUR EVE - The Musical Performance
Evening November 24, 2018
Editorial Co-ordinator:
Dr. Sheena Chhabra & Mr. P.B. Sukumaran
Designed & Developed by:
OMLogic