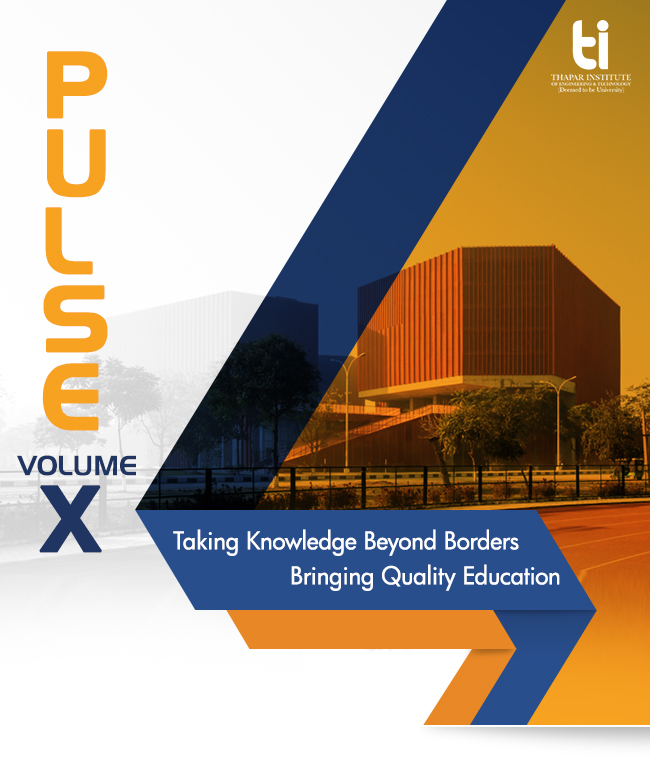 Closure of Even Semester (2019-20): We, at TIET, are very mindful of the turbulent times and unexpected challenges we all face and find ourselves in, all of us here share your genuine worry and concerns for the future and career of your ward. Nobody expected that our lives would be affected to the extent it has been in the past four months but it is in the hope of a better tomorrow that we gather ourselves and rebuild. We have been functioning in online mode since mid-March, 2020. We used both recorded classes and online lectures (zoom sessions). It is reiterated here that the teachers have put in more efforts to deliver the online lecture than in the classroom. Faculty has completed all the course contents of their respective courses and nothing has been left untutored. Moreover, more efforts have gone in to evaluate assignments, quizzes as compared to EST. In spite of the lockdown and curfews, our faculty has tirelessly worked to conclude the even semester of the 2019-20 academic session in time and many of the exit-students have been able to join their respective placement companies. We are also pleased to share that the recorded e-content, over and above the real-time online lectures and labs for the coming semester is already ready.
Beginning of Odd Semester (2020-21): We are pleased to let all know that teaching for the first semester of the academic year 2020-21 has commenced from July 20, 2020 for continuing students. Our faculty has developed e-content for every subject. Comprehensive e-content has been made available for all courses through Learning Management System (LMS) of the institute besides offering online lectures until the situation is conducive to commence face to face lectures, tutorials and laboratory classes in smaller groups with adequate social distancing. We will try and maximize the on-campus experience as much as possible under prevailing health and safety requirements. This is in line with our core values in which continued interaction between students and teachers is a vital component of our Teaching and Learning practices. Additional information will also be made available at www.thapar.edu.
TIET started online classes through Thapar Learning Management System (TIET LMS). TIET LMS allows faculty to manage all course activities online.
S. No.
Date
Webinar Topic
Speakers
1
May 8
Pathway to Computing
Dr. Maninder Singh
2
May 13
Fighting Covid-19 with Biotechnology Solutions
Dr. Manoj Baranwal
3
May 16
Making Sense of Covid-19 Crisis A Liberal Arts & Sciences Perspective
Dr. Padmakumar Nair
4
May 18
Electronics 2025: A Futurescape
Dr. Alpana Agarwal
5
May 21
Mechanical Engineering- At the heart of cutting edge technology
Dr Ajay Batish
6
May 26
Civil Engineering –The Critical Foundation for A Modern Economy
Dr P P Bansal
7
May 30
Chemical Engineering at Thapar Institute: Your Gateway to Diverse Career Opportunities
Dr H Bhunia
8
June 6
Electrical, Instrumentation and Biomedical Engineering: The Key to Smart and Sustainable growth
Dr R S Kaler
9
June 12
TIET Admissions 2020
Dr S S Bhatia
Dr Ajay Batish
A) Department of Rural Development and Panchayats, Government of Punjab adopted the Seechewal model design standardized by Dr Amit Dhir (Head- School of Energy and Environment) and his team for cleaning wastewater ponds in Punjab Villages.

To know the feasibility of this treatment system, click here.
B) Prof. Rajeev Mehta and Dr. Neetu Singh from Chemical Engineering Department, Dr. Soumen Basu from School of Chemistry and Biochemistry are working on the project "Synthesis of Graphene oxide and reduced Graphene oxide from coal, and scale-up of the process" under Center of Excellence in Frontier Materials at TIET. The project builds upon a novel, efficient, environmentally friendly and relatively inexpensive process developed by Prof. Mahajan and his team at Virginia Tech. The cost of producing graphene from our one-pot process compared to that using currently employed Hummers' method is estimated to be approximately fifteen times lower. We expect this advantage to magnify for large-scale production. The importance of cost advantage cannot be overstated. Lower price of graphene and its related manifestations will find their way in a diverse set of applications including additives for hydrophobic coatings, lightweight composites for automobiles and tires, membranes for desalination and water purification, biosensors and thermal interface materials for high power computing systems and improved zinc-ion batteries. Briefly stated, the impact will be transformational. The success of this project will provide us a unique capability to produce Graphene Oxide (GO), Reduced Graphene Oxide (rGO) and other graphene derivatives such as graphene quantum dots, in-house, at a fraction of cost of the current market price of GO, rGO etc. It is worthwhile to note that inspite of the restrictions encountered due to Covid 19 pandemic, we have already assembled all the required equipment and consumables, and succeeded in making Graphene Oxide (GO) in our laboratory.
C) A team of faculty members and scientists from TIET, PAU, Ludhiana and TAU, Israel is working on a project entitled 'Village: A Data-Driven Approach to Precision Agriculture in Small Farms' under the Center of Excellence for Food Security. The key members of the project include Prof. Moushumi Ghosh, Dr. Amit Mishra, Dr. Shreelekha Pandey, Dr. Vinay Arora, Dr. Karun Verma (TIET, Patiala), Prof J.S. Mahal (Director Extension, PAU, Ludhiana), Prof. Dhanwinder Singh, Prof. Manjeet Singh (PAU, Ludhiana), Prof. Eyal Ben Dor, Prof. Ram Fishman, Prof. Yosi Shacham (TAU, Israel).

A data driven approach based system is being established which can store and compile the useful information received from different sources such as remote sensing, ground sensors and farmers survey in cloud server for further analysis. The system is based on low-cost mobile units (i.e. IoTs, phones) and application software collecting and transmitting data directly from the farms. It will serve people with low technical literacy those are working with smallholders in developing countries.

The proposed technology presents current status as well as predict possible scenarios such as dehydration, heat (or cold) damage, or pathogen attacks based on the change detected using Micro Systems Technologies, i.e. sensors, micro-electro-mechanical systems (MEMS) supported by very large scale (VLSI) application specific integrated circuits (ASIC). Data generation using close and far remote sensing means (satellite and drone based multispectral camera system) are being developed to assess soil chemical and physical attributes using self and simple easy to use methodology.

The novelty of using an integrated interdisciplinary behavioral-technological approach that builds on our respective disciplinary expertise, and the ability to pilot and implement at scale through partnerships, on the ground, allowing not only gaining new research insights into smallholder cultivation and revolutionizing agricultural extension in the developing world but also caters to the clarion call of the government to double the income of farmers by 2022.
A) "VERITAS" a digital design logbook: A multidisciplinary student team developed "VERITAS" a digital design logbook to manage project-based courses including the CAPSTONE projects. The developed website provides an online digital logbook/daily diary/blog with team collaboration for individual work stored on a secure platform. Faculty and other mentors can be part of the team to monitor and assess work progress and contributions. This is designed for use in BE Capstone Projects, Project Semester, Project-based courses, student teams for competitions, etc.The entire project has been executed online since the middle of April 2020, under the Experiential Learning Centre (ELC). A team of 12 students, which comprised 8 students of 3rd Year, Mechanical Engg., one student each from 2nd year of Computer Engg., Electronics and Communication Engg., and Mechanical Engg., and 1st year of Computer Engg.. They were guided online by Dr Sanjeev Bedi, Professor, UW Canada, Dr. Ajay Batish and Mr. A S Jawanda from TIET, Patiala, and with valuable inputs from Dr. Sandeep Sharma, MED, TIET. The project is live on https://logbook.cf/ and will soon be hosted on http://logbook.thapar.edu. First release will be tested for Capstone Project of Mechanical Engineering with about 350 users and hosted on CITM infrastructure.
B) Ritwik Mehta, (Third Year - Electrical Engineering) is selected as the Chairperson of many online MUNs. Selection was based on personal interview, CV shortlisting and experience. Following are the details:
I. The OAK SUMMIT - CO- Chairperson
(Topic - "Impact of COVID-19 on Indian Economy with special emphasis on migrant workers"), Date – 21st June 2020.

II. The Fierte MUN – Deputy Moderator
(Topic – "Uniform Civil Code and Implementation of CAA-NRC), Date: 11th – 12th July, 2020.
| | |
| --- | --- |
| III. The PurpleBun MUN – Chairperson (Topic – "Making a new national security policy in the light of recent India-China dispute"), Date : 19th July 2020. | IV. The StatesCraft MUN – Deputy Moderator (Topic – "Making a new national security policy in the light of recent India-China dispute"), Date: 22nd – 23rd August 2020 |
C) Sahil Ahuja under the guidance of Dr. H.S. Pannu created a Multimodal Authentication System.
| | |
| --- | --- |
| | Its catchy features are Face Recognition, Fingerprint Recognition, RF Identification, and Manual Keypad Entry engender invincible security &amp. It's been built using Raspberry Pi and Arduino. It allows user to access a resource once a required set of these four authentication methods are passed. Besides, there are interfaces provided for Admin and Normal users which make the operations user-friendly and lucid. Visit the demonstration of this project on. YouTube |
D) Ritwik Mehta, (Third Year - Electrical Engineering) published Understanding COVID-19 Response Dynamics: Impact on Globalization and International Trade in My policy brief by Policy Monks. For details, click here.
E) Jeeya Prakash, a student of third Year (ECE) published a book "Mirror".
"Mirror" is a collection of Poems that she wrote during her late teenage years. It is a journey of connecting with people, trying to bring them closer to themselves and making them believe that they are never alone, hence the title. The book is available on Amazon and Flipkart, being shipped worldwide, and it is also available as an E-book.
| | |
| --- | --- |
| | F) An exemplary feat as TI students recorded an all-India win at 10-day long CrowdStrike India's Hackathon on Techgig platform! Outshining 7477 participants with algorithms, time series analysis and optimisation techniques presented across 4 competitive rounds in 'Flight management, Big-Data and Optimization' our champions made us proud yet again. Kudos to the team! |
G) Ritwik Mehta, (Third Year - Electrical Engineering) is selected as the Youth Representative of Patiala District by Youth India Federation.

H) Japleen Singh and Prabhjot Singh the students of 4th year BE Civil Engineering presented the paper titled as "comparison of bituminous mixture properties at various stages of construction of pavement" under the guidance of Dr.Tanuj Chopra and Dr.Anush K.C at 4th international conference on construction, real estate infrastructure, project (CRIP) Management organised by National Institute of Construction Management and Research (NICMAR), Pune.
I) Raghav Virmani - General Secretary, Creative Computing Society, TI successfully launched a Real Time Sudoku Solver for extracting, solving and overlaying 9*9 Sudoku puzzles on the camera frame.

A pleasure to witness Thaparians' innovating with the Convolutional Neural Network, OpenCV and Backtracking techniques.
J) Japleen Singh and Prabhjot Singh the students of 4th year undergraduate qualified in the top ten of the paper presentation titled as "Engineering deficiencies and road safety" under the guidance of road safety audit team of T.I.E.T organised by IRSC Supported by MORTH.
| | |
| --- | --- |
| A) TI Associate Professor Dr. Sanjay Kumar and his 3 team members contributed innovative ideas to fight COVID-19 in the online competition, Fight Corona IDEAthon organised by MHRD in association with AICTE & other Government firms. | B) Dr. Sanjai Saxena, Prof. Biotechnology, TIET, delivered a LIVE talk on Recent Trends in Science & Technology at International Faculty Development Programme. |
C) TI Assistant Professor, Dr. Harish Garg joined as the Associate Editor - Kybernetes, Emerald - an international journal of high repute.

Holding a PhD degree in Applied Mathematics with specializations in fuzzy reliability, evolutionary algorithms, decision-making theories, multiobjective optimization, and fuzzy optimization. He has published over 200 SCI papers and one of the worldwide renowned researchers in the field of fuzzy decision making.

D) Indian Council of Medical Research (ICMR) - Center for Innovation and Bio-Design (CIBioD), PGIMER (Chandigarh) funded Thapar Institute's project "Aarogya Prahari- Tracking and Data Analysis of Patients for Predictive Management" through STEP - TIET.

Mr. Harpreet Singh (Assistant Professor - Computer Science and Engineering Department) served as the Project Coordinator and plans to launch a screening tool and predictive management using machine learning for Covid-19, HIV, Hepatitis and Tuberculosis (TB) patients.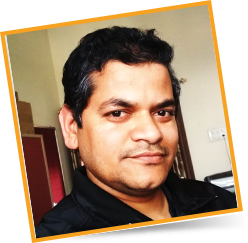 In frame: Dr Debabrata Deb
E) TIET faculty as national opinion movers - Dr. Debabrata Deb, Assistant Professor, SPMS: One of his opinion piece got published in THE ARMCHAIR JOURNAL, Friday, July 17, 2020. To read complete article, click here.
A) 'They pursued their dreams with dedication, hard work and grit. That's all it takes to create history!'

Thapar Institute of Engineering and Technology takes immense pride to have mentored Mr. Manoj Ahuja and Mr. Iqbal Chahal, who are carving a niche as the Chairperson of CBSE and the BMC Commissioner respectively.
B) Proud to have mentored the vanguard of victory for the nation!

TI alumnus Commodore Rakesh Anand conferred the Distinguished Alumni award by the Senate of Thapar Institute of Engineering and Technology. We are proud of his 30+ years of distinguished service to the Indian Navy showcasing outstanding management capabilities and business leadership skills.
C) TI Alumnus Mr. Ravinder Singh Dhillon holds a stellar career in the power sector spanning over 36 years.

Significantly contributing in macro planning at the Central Electricity Authority and designing power generating equipment with Bharat Heavy Electricals Ltd, he has also played a major role in power projects for geographical diversification by cross border funding.
| | |
| --- | --- |
| D) TI alumnus and former IAS Officer, Anirudh Tiwari BE Electronics & Communication, 1983-1987 batch has now been promoted to the position of Additional Chief Secretary by the Government of Punjab. | |
E) TI alumnus Er. Daljit Inderpal Singh Grewal successfully joined as the Director (Distribution), Punjab State Power Corporation Limited.

Having served as an Engineer-in-Chief (Distribution) - Central Zone, Chief Engineer - South Zone & SE Sangrur, and Senior Xen (Grid Maintenance Distribution) - Sangrur, his diverse 35 years' experience will help him bring significant value in his new role.
| | |
| --- | --- |
| F) On a mission of accomplishing greater milestones, TI Alumnus Mr. DPS Kharbanda took charge as Director & Special Secretary - Sports and Youth Services and Special Secretary & Commissioner, NRI Affairs (Punjab). | |
G) Making Thapar Institute proud with his terrific industry achievements!

TI alumnus Mr. Gurdev Singh Nagi took charge as the Chief Engineer at Punjab State Power Corporation Limited (PSPCL), Patiala).
H) TI alumnus Mr. Shailesh Aggarwal took charge as Vice Chairman - Confederation of Indian Industry (CII) (Himachal Pradesh).

A reputed industry stalwart with distinguished services as President - Baddi Barotiwala Nalagarh Industry Association.
| | |
| --- | --- |
| | I) TI Alumnus Mr. Yogesh Tandon got appointed as the Director (Technical) at Punjab State Transmission Corporation Ltd. |
J) Abhishek Prasad from Electrical Engineering, batch 2015-19, secured outstanding 3.77 GPA out of 4 in the 30 credits Online Post Graduate Program in Artificial Intelligence & Machine Learning (June-2019 to July-2020) conducted by Electronics and ICT Academy of National Institute of Technology (NIT) Warangal in association with Edureka as an industry partner - an initiative by Ministry of Electronics and Information Technology (Government of India). He got selected in this Post Graduate Program in top 42 out of 10,145 applicants with a scholarship of Rs. 112,491(One Lakh Twelve Thousand Four Hundred Ninety One Rupees Only).
TIET team has developed 6 products during April to July 2020 in Experiential Learning Center and Central Workshop with financial support from the institute. The team has developed six products. The products are Ventilators: Mechanical Type & Electronics Based; ROBO-CART: Automated Cart / trolleys; Face Shield. The details can be read here.
A) Thapar Institute of Engineering & Technology (TIET), under the aegis of Industry Engagement Office, enters into a strategic partnership with the Netherlands-based IT Consulting firm – Xebia by signing an MoU (Memorandum of Understanding) to introduce cutting edge specialisation electives for its Computer Science Engineering students.

The basket of elective courses is designed for students specialising in Cloud & DevOps. It is one step towards upskilling our students for future employment opportunities. The curriculum comprises course materials (e-books), assignments, assignments, case studies, Industry projects and training sessions, and will be piloted under the specific guidelines and expertise of Xebia' s DevOps practitioners along with the learned faculty from TIET. Additionally, under the MoU, up to 20 faculty members will be trained in these latest high-in-demand technologies by Xebia to further impart training to our students. Xebia was first time recruiter at TIET last year and will now be hiring our students on priority over other campuses while scaling up their fresh talent acquisition plans.

B) Thapar Institute of Engineering and Technology (TIET), under the aegis of 'Industry Engagement Office, enters into a new academic partnership with Futures First - part of the Mauritius-based Hertshten Group (holding company), which has a fast-growing proprietary finance business that continues to raise the international benchmarks for excellence across the finance industry.

While Futures First has been a regular recruiter at our campus for many years, it is now that this relationship has been taken to the next level. Last year they conducted complementary intensive seminar & workshop in Global Derivatives for our students & faculty members. Under the MoU now, they will be training up to 5 of our faculty members in these specialized Finance domains w.r.t. Global derivative markets along with preferential hiring for our students over other campuses.

The above partnerships are strong steps towards building new industry engagements and consolidating our existing relationships. While upgrading the knowledge of our faculty members and additionally extending preferential status to TIET students they will extend our students a clear opportunity to build a strong foundation for a high growth career in the latest technology trends.
A) Thapar Institute of Engineering & Technology leaped 100 positions in the Times Higher Education Asia rankings and is now ranked 156 in Asia.

The universities are ranked by their performance in five areas: Teaching, Research, Citations, International Outlook and Industry Knowledge Transfer.

This ranking demonstrates Thapar Institute's commitment to delivering consistently superior academic and research outcomes.
B) Thapar Institute of Engineering & Technology maintained its high rank in India's most prestigious higher education ranking framework.

TIET has been ranked 29th in Engineering, 31st in University, 51st in Overall, and 54th in Management category in NIRF Rankings 2020.

We acknowledge the commendable contribution from all our faculty, staff, students, industry partners, and global collaborators.
The NBA accreditation has been extended for one year till June 30, 2021 for Electronics & Communication Engineering and Civil Engineering programs.
A) Rotaract Club, TIET organised Personal Online Counseling Sessions in association with Thapar Institute Counseling Cell (TICC).
| | |
| --- | --- |
| A) Live query resolution, industry insights, data structures algorithms lessons for conquering the placements like a PRO, all this and much more was part of the workshop hosted by Mr. Pranav Khandelwal - Coding Blocks instructor, Software developer, former Acadview instructor. | |
| | |
| --- | --- |
| | B) The Research Support Services team at Nava Nalanda Central Library organised an insightful webinar on LaTex - a useful software for communication and publication of scientific/technical documents. Targeted for novice authors, researchers and learners, the webinar aims to facilitate better quality of research articles through LaTeX. |
C) Creative Computing Society, TIET in association with Coding Blocks conducted an interesting workshop on 'Standard Template Library.'

An opportunity to learn problem-solving using STL with Sanjeet Boora, Instructor, Coding Blocks, through a LIVE question-solving session!
| | |
| --- | --- |
| | D) Thaparians made the most of the two renowned speakers' rich expertise in diverse aspects of commodity markets including procurement, export and import of commodities, business development and hedging for North Indian region (~220 member brokers further serving lacs of clients). |
| | |
| --- | --- |
| E) Econ Club, TI in association with PrepBytes organised 'Code Heist' - an ultimate technology extravaganza for all the coding ninjas who have a knack of solving complex economic problems innovatively. | |
| | |
| --- | --- |
| | F) An insightful e-talk by Mr. Sudeep Gupta - Director International Business at OYO on 'An Entrepreneurs journey from start up to scale up' was organised. It was an enlightening session indeed. |
| | |
| --- | --- |
| G) Econ Club, TI organised an interesting webinar on Cryptocurrencies and Foreign Exchange by Mr. Nick Gomez, a renowned entrepreneur, speaker, investor and crypto master trader. | |
COVID-19 pandemic disrupted regular professional practices Worldwide, which subsequently redefined the way the service sector operated. It was a harbinger of change at the Centre for Training & Development (CTD) as well, as they graduated from conventional/offline training to online training. In fact, this change in the mode of delivering training programs helped CTD leverage the advantages of 'outreach' and 'flexibility'. In the quarter April-June 2020, CTD trained more than 3000 students spanning across 1049 hours. Students showed bubbling enthusiasm in enrolling for the various CTD courses, designed variously for students in different years of study. Following is a summary of the trainings:
CTD continues to deliver the above programs in an online mode. Registrations are invited at the beginning of the week, and customized learning sessions are organized throughout the week, covering areas like personal interviews, group discussions, case analyses, aptitude tests, career assessment, career support etc., making the students more industry and society ready. Look forward to hearing from the CTD team every Monday and get insightful inputs on employability related skills!
Editorial Co-ordinator:
Dr. Sheena Chhabra
Designed & Developed by:OMLogic