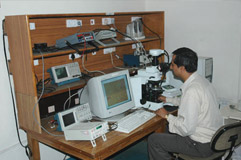 Department Highlights / Events / News
Faculty members are having R & D projects which are being funded by different funding agencies like DRDO, CSIR , UGC and DST. The total cost of the projects which are currently being run is more than 5.8 crores.
VISION
To develop our academic and research programs as per the national needs competitive with global development.
MISSION
Strengthening of existing M.Tech. program vis a vis the present industry needs.
Introducing and promoting the B.Tech. program in 'Metallurgical and Materials Engineering'.
Increasing research output through multi-interdisciplinary research areas as well as involving experts from other departments/institutions/industries.
Creation of Excellence Centre for development of advanced materials for technological purposes.
Develop man-power that will contribute in academic, scientific, and industrial development of the country.